To get the update, use the 'FireCAD Update Utility' link on the desktop, or the 'Check For Updates' command from within the program in the drop-down menu under "File" on the FireCAD Tools ribbon.

Installation Instructions:
Please download the update for the appropriately licensed version(s) of your software.
Close any running instances of AutoCAD, FireCAD, and the Cadgen Database Utility.
Run the installer and follow the prompts to install the updates.
Known Issues:
• Add-in not loading in AutoCAD 2017 or prior versions.
• Database editor may close suddenly when searching using the filter box in the Device Circuits tab.
New Features:
• AutoCAD 2023 Compatibility - The FireCAD add-in version is compatible with AutoCAD 2023.
• Updated Database Editor - This release features new columns related to battery calculation enhancements as well as new commands for creating a PDF datasheet package, and also .DWG detail generator. 
• Conduit Fill Schedule Report & Export - A more detailed conduit fill schedule has been added to show cable quanitities, cross section areas and fill percentages with more detail, along with an export to Excel command.
New commands for the Conduit Fill Schedule-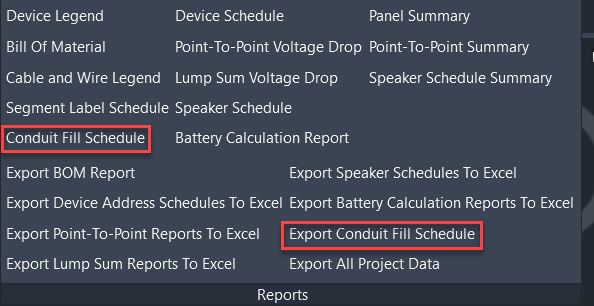 Conduit fill schedule example-

• Battery Calculation Max Current Option - Columns added to use power limited circuit standby/alarm max current values. The new columns Standby Current Max, Alarm Current Max, Use Current Limits on Battery Calc can be used to to specify a total for max standby/alarm current on the battery calc, instead of a total based on device quantites and current values. This can be used for any circuit and accessed in the Panel Circuits tab of the database editor, or the Project Circuits Editor dialog.
Columns are set on loop circuits in the example below-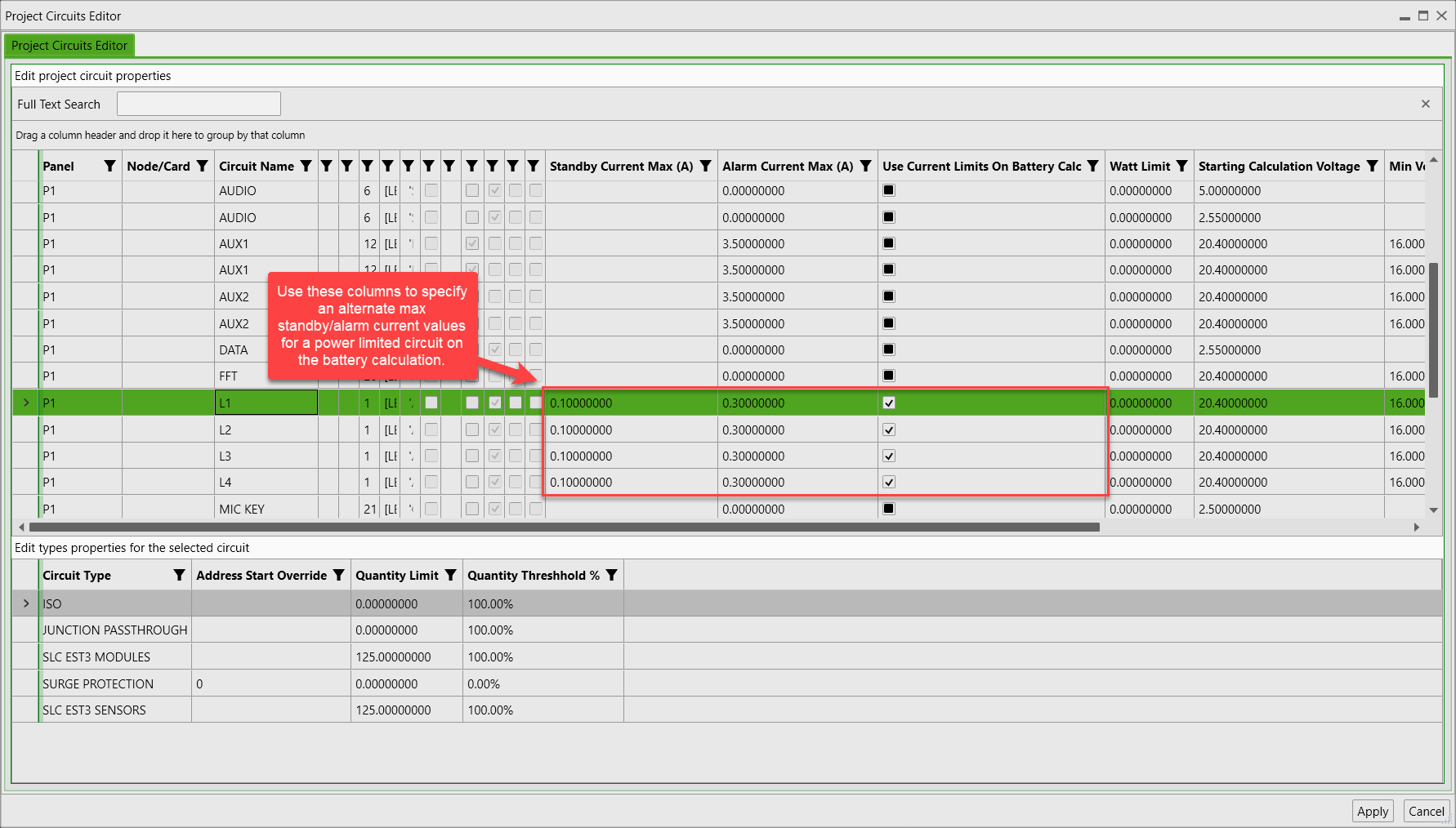 With this option turned on for a circuit, the device quantites are still shown but the max current values are used instead of device totals-

• Assembly Battery Box Size Capacity - Previously assemblies only had one column to set valid battery charging capacities, and did not have the option to also specify battery sizes that could be contained in the assembly. The new column Assy Battery Box Capactites allows a comma separated list of values to enter valid battery box capacities. 
Set values in this column that are compatible with the assembly cabinet size-

If the charging capacity required exceeds the assembly battery box capacity available, then a warning will be added to the battery calculation report-

If no value is entered for assembly battery box capacity, then the following note will be added-
• Assembly Battery Quantity - To support 12 volt assemblies, or to specify a custom quantity of batteries in the battery calculation report for any assembly, the column Card Battery Quantity can be used to set a specific quantity of batteries. If no value is entered, then (2) batteries will be specified by default. 

• Additional Card Current & Watts - For cards that supply current or watts, like power supplies or amplifiers, new columns Addl Current and Addl Watts have been added to the Device tab of the database editor. These can be used to now specify any current or watts supplied by a card. Previously, only a static max current value could be added to the assembly. These new columns are a more accuarate way to summarize the total power available for an assembly, and will be used for other features in the future. As more cards are added to an assembly using the assembly editor, the total required current from all cards and circuits is deducted from the total avaialble current specified for each card-  

This Battery Calculation displays the total current from 2 power supplies added to the assembly dynamically-

Fixes:
• Missing battery size row in Battery Calculation report has been fixed.
• Devices with multiple addresses are counted only once per device on the battery calc report.