To get the update, use the 'FireCAD Update Utility' link on the desktop, or the 'Check For Updates' command from within the program in the drop-down menu under "File" on the FireCAD Tools ribbon.

Installation Instructions:
Please download the update for the appropriately licensed version(s) of your software.
Close any running instances of AutoCAD, FireCAD, and the Cadgen Database Utility.
Run the installer and follow the prompts to install the updates.
Known Issues:
FireCAD ribbon menu may disappear after the update.

Solution

Type 'MENU' at the command line

In the dialog the opens up, select 'cgfcad21.cuix', 'cgfcad19.cuix', or cgfcad18.cuix depending on your version, and click open.
New Features:
Disable Label Updates.

 

An option was added to temporarily pause updating labels after using features that would normally refresh all labels, for example when closing the Project Circuits Editor and Options Editor dialogs. On large projects this may help speed up processing time but a manual refresh of these labels will be required by using 'Refresh All Labels' from the 'Validation' ribbon panel.

Report Column Width Factor. A global column width factor can be set for all calculation reports. This factor is multiplied by the 'Report Text Height' setting to determine the column width in drawing units.

Generate Legacy Reports. The previous legacy calculation report styles can now be accessed by checking the 'Generate Legacy Reports' option.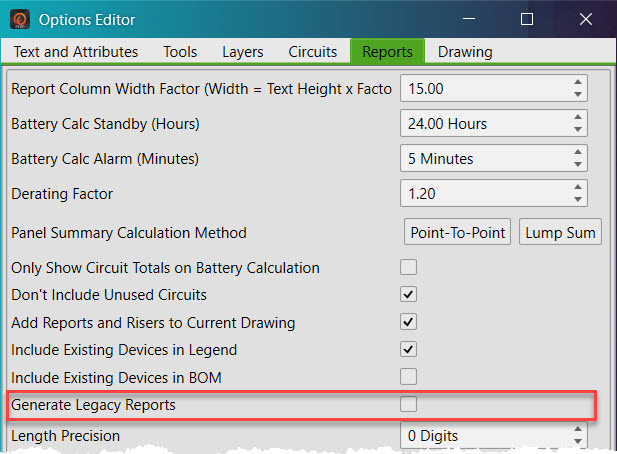 Use True Colors for Device Layers. This option can be used to assign true colors assigned in the project database to device layers instead of approximating an index color assignment. This option is off by default.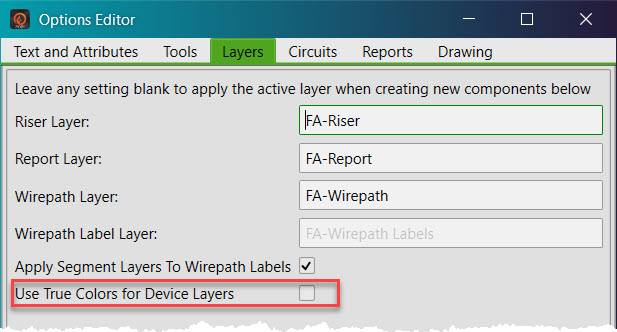 Enhancements:
Streamlined Label Updates.

Limited device label updates in most commands to target specific affected devices instead of the entire drawing. 'Refresh All Labels' can still be used to update all device labels on the drawing when required.

Added 'T-Tap Wirefill' option to the 'Project Circuits Editor. This option can now be enabled/disabled on individual project circuits.
Fixes:
Default attribute spacing adjustments were made when placing a device from the palette based on label text height which mainly affected metric drawings.
Default device attribute color set to 'ByBlock' when placing a device instead of 'White', which was the default in previous versions.
Circuit summary column headings were updated to match report column terminology.
Errors when generating the summary reports were fixed.
Issue of locking up while creating the battery calculation report was fixed.
A new table style was added so that reports and spacing can be consistent on any existing drawing and not affected by a custom default table style.
Error when generating line type wirefill labels has been corrected. This caused missing line type labels for some circuits.
For support, please email support@cadgen.com